Several years ago, my husband and I had a sandwich from a pizza and steak shop in Bear, Delaware that they called a "Bear Burger."   Unfortunately, the shop went out of business, and we have never found any place that served anything like them.
Although I really am not sure why, we started talking about trying to make our own Bear burger a few months ago.
After finally agreeing on all the ingredients we thought were in it, we decided just to use good quality ground beef instead of  what appeared to be hand- chopped steaks in the original patty.
The result was hamburger that was very tasty.  Although it is not exactly the same as those we ate in Delaware, we both really like it.  In fact, I liked our Bear burgers better because they tasted great without being as greasy as the others.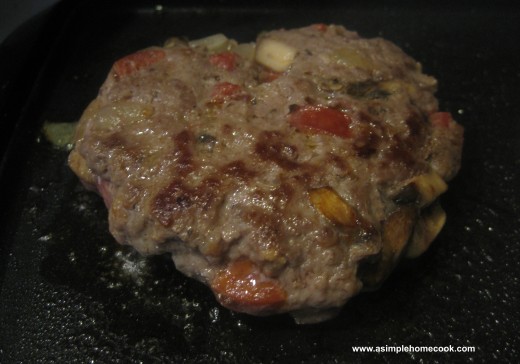 Don't get me wrong….these still have grease.  This is NOT a recipe that will be fixed frequently at my home; it is instead reserved as a special treat.
Although we chopped many of our ingredients into rather large pieces, smaller pieces work just as well…if not better.

My husband likes to eat his the same way he likes his cheesesteaks…with ketchup. I must say that in this case, I agree with him. Although, I am going to have to try some mayo on it too the next time.