Beef and noodles is a wonderful comfort food on a snowy, cold day.
My mom would often make beef and noodles with leftover roast or beef that my parents had raised and canned. It was one of my favorite meals, but I remember picking out the noodles and leaving the beef behind much to Mom's displeasure 🙂 I am so glad that my daughter eats it all without any issues.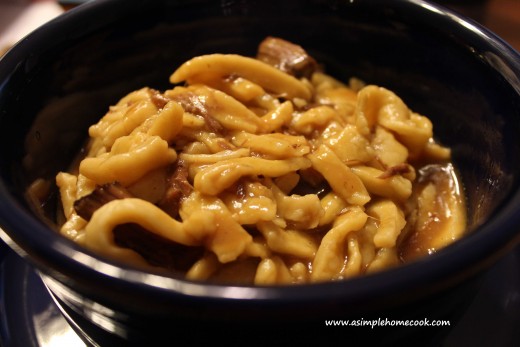 It is a dish that apparently is not well know in the part of the South where I currently live. Referred to as "beef and dumplings" or "beef noodle stew" by some of  my southern friends, it has become one of the most requested dishes I make. I think it may be that they just never had it before 🙂
My mom never used a recipe to make beef and noodles. She would vary the broth used depending on if she had any braising liquid leftover from cooking a roast or if she used canned meat. She very rarely purchased canned broth and would use beef bouillon cubes and water if she did not have enough homemade broth/braising liquid.
On the other hand, I often buy low sodium beef stock. I usually use a combination of beef stock and braising liquid, if I have it on hand. If not, I will use whichever one I have and low sodium beef base (e.g. Better-than-Bouillon). In fact, when I cook beef and noodles for a large group I use one-quarter or one-half commercial beef stock and the rest is water and Better-than-Bouillon. All variations will produce a very tasty dish in the end.
The recipe I am sharing uses one batch of homemade noodles. You can find how to make them by clicking here. If you want to make more than 6 or so servings, you will need to make multiple batches of noodles. You will need to increase the amount of liquid proportionally ( 1 batch = 32 oz. liquid minimum, 2 batches = 64 oz. min., and so on). There will be a point (number of batches) that will require more liquid because of the amount of extra flour with each batch. For example, if you do cook 10 batches of noodles at once you WILL need to add a little more liquid. However, You DO NOT need to increase the amount of meat proportionally. I only use three 3 pound chuck roasts with ten batches of noodles.