The abundance of fresh berries is one of the many things I love about summer. While I think of them most of the time as being fresh snack or part of a dessert, the versatile summer berries can be used in savory-sweet dishes also. Recently, one of favorite savory-ish uses of berries is on flatbread pizzas.
These quick, easy, and light non-traditional pizzas are great for lunches or dinners.   They are pretty enough to serve at a party and simple enough to have as a snack.
My family loves berry and brie cheese flatbread pizzas.  Here are a couple of our favorite combinations:
Blackberries, Brie, and Herbs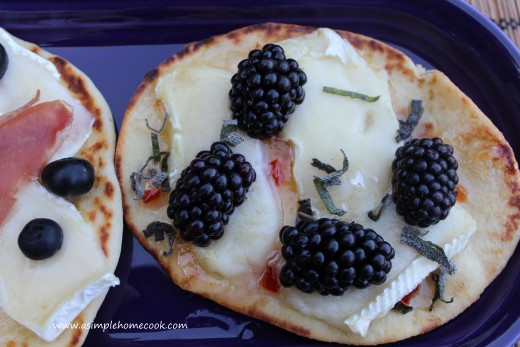 Blueberries, Brie, and Prosciutto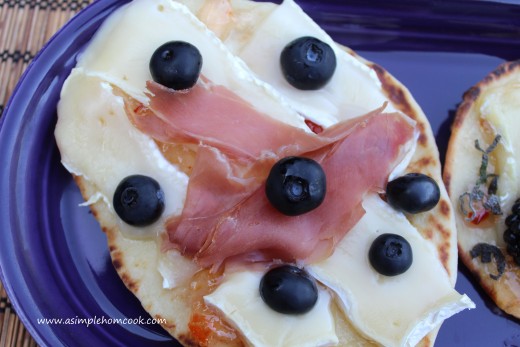 Although you can use any kind of flatbread, I prefer using naan. I love the soft, yet crispy texture of naan. I think having more than just a very thin crust helps give the berry-laden pizza balance.
To keep the flavor in balance, I also like either spiced honey or hot pepper jelly on all versions of the berry pizza. Omit it if you want more savory and less sweet, but be warned that you may find the pizza a little bland.

What about red raspberries? I love them, but not on these pizzas. It is my taste preference, but I do not like them as well with the brie. Plus, I am not much of a fan of hot red raspberries…or hot strawberries for that matter.
Like any recipe, adjust to meet YOUR taste preferences.