We still have a lot of leftover Easter candy at my house. My daughter is VERY good about not eating too much candy. Plus, she did get a lot of candy between the Easter Bunny and the egg hunt at our church. When I found a bag of white Cadbury mini-eggs that I had bought on sale and with store and manufacture's coupons (in other words, for next to nothing) I decided to make some bird nests using the recipe for butterscotch chow mien noodle haystacks.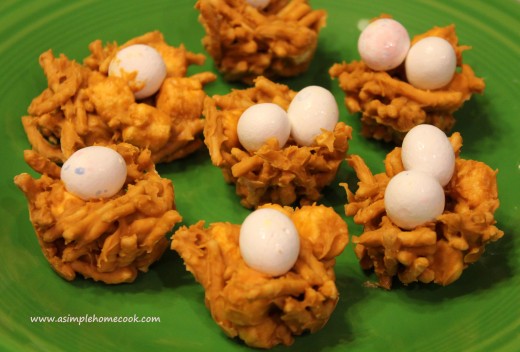 To form the bird nests, I put them in mini-muffin tins. Using the tins allowed me to have a more uniform size than what I could have achieved by creating them freehand on a wax paper lined baking sheet, which I also did. (There is one freehand made next in the above picture).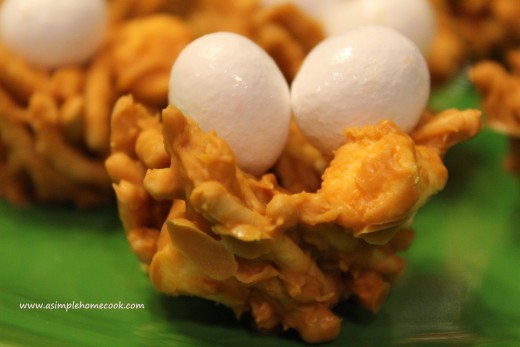 I added miniature marshmallows to my chow mien noodles and melted butterscotch chips, but you could omit them. Or, you could add peanuts or cashews along with/instead of the marshmallows. It is a flexible recipe that you can make your own. I know there are more complex versions of this recipe that also use peanut butter, etc. but this is the simple one my mom used.
Of course, to keep it really simple, you can always just omit the egg candy and just make simple haystacks. Haystacks were something that usually appeared at Christmas around our house. The egg nests are really cute for spring parties, Easter, and baby showers.
Much to my surprise, I discovered my husband had never had this sweet, crunch candy in either form. He really likes butterscotch and he loved this treat. I do think that if you love butterscotch you will love this candy…even if you make them for absolutely no occasion like I did.