Growing up, our neighbor, Gussie, was a grandmother figure who could really cook.
When her husband was alive, she would make several roast chickens on Sundays and he would distribute them to the "older" people who were shut in.
She loved to cook for other people.  We were lucky enough to be frequent recipients of her food.
One of my favorite dishes was her cooked cabbage.    She used bacon grease and sometimes included the bacon, but it was always delicious.
It took me years (even with asking her how) to finally get it right, but I think I finally have come close to her original dish.  My biggest problem in sharing it is that I typically do not measure any of the ingredients.  This recipe is my best estimates.
This version is made with bacon, but it can be omitted if you would like a healthier version.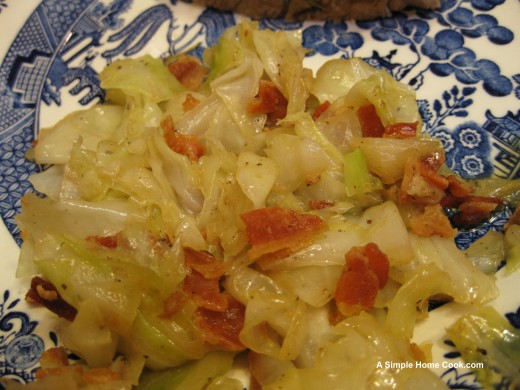 Recipe: Cooked Cabbage
Ingredients
1 med. to lg. head of cabbage
1 – 2 Tbsp. bacon grease
2 to 3 Tbsp. butter
1/3 to 1/2 c. water
2 to 3 tsp. sugar
chopped cooked bacon (optional)
black pepper(optional)
Instructions
Chop cabbage into 1 – 2 inch pieces.
Add bacon grease and butter to skillet.
When butter melts, add cabbage then water and sugar.
Add  bacon and/or black pepper, if desired. Stir.
Cover to let steam, stirring enough cabbage to prevent sticking and/or burning.
Cook until cabbage is tender.