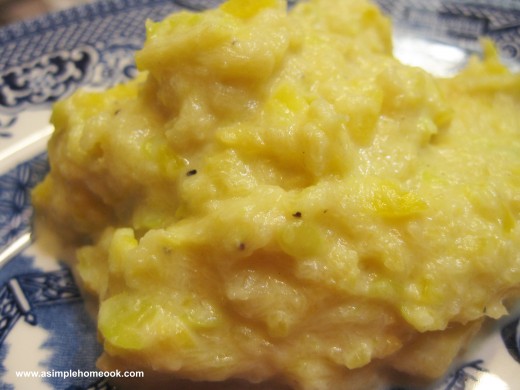 My paternal grandmother and one of her sisters both laid claim to the ownership of the family's cooked summer squash recipe. In fact, I know that her children still believe that it was my great aunt's recipe. My grandmother used to contend that her sister first got the recipe from her …
My best guess is that neither of them came up with the idea on their own…it was probably something that their mother or another family member made that they tweaked. However, that is pure speculation on my part.
As the risk of re-sparking a long forgotten debate is very slight (the most invested parties have long since passed), I have decided to share this family recipe.
It is essentially yellow squash mashed very similarly to potatoes. The squash and a little added sugar gives a little sweetness that is balances with black pepper.
My grandmother always called it cooked squash…although the name could mean anything except raw squash…I kept the name out of respect to her and my aunt.