My love of pimento cheese started long before I moved to the South.  My parents would raise pimentos is their garden for themselves and my grandmother to pickle and can.  In fact, my grandmother was well known for her pickled pimentos.
Although my dad rarely cooked, he usually helped my mom use the canned pickled pimentos to make pimento cheese.  My dad also seemed to be the one directing how the pimento cheese was made….what type of cheeses, how many pickles, etc.  He was also the one who often operated the grinder…. yes, a hand turned grinder is the only way I ever knew pimento cheese could be made until I was an adult.    The result was a delicious cheese spread that never had a recipe.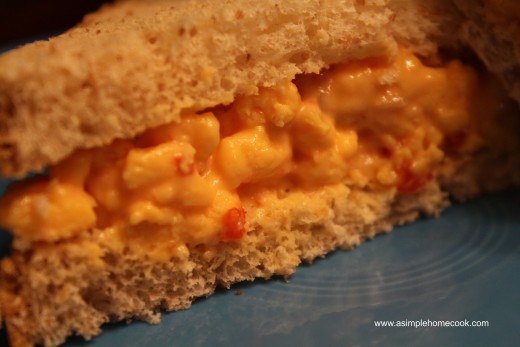 I have done my best to replicate what my dad did in recipe form. However, I found that getting the exact flavor does depend on having the right pickle juice. You see, my dad always used some of the liquid from the jar of home-canned pimentos and some of the liquid from my mom's home-canned sweet pickles to make the pimento cheese and I find the most of commercially available products do not match. As I can not raise a decent garden here and do not have a large enough supply of picking cucumbers to make my mom's sweet pickles, I also have been struggling to find a good substitute. If your in or near Holmes or Adams counties in Ohio, you're in luck. There are two bakeries/shops called Miller's in both counties that sell Hershbergers Cannery Sweet pickles…they are the closest thing to my mom's homemade that I have tasted. I buy them by the quart and bring them back to Georgia to make pimento cheese and ham salads…okay, that sounds crazier than I thought when I write it out… Plus, my family eats them like a side dish or a snack by the quart as well.
It is a simple recipe that can be dramatically altered by small changes in ingredients.
Ingredients
12 oz. extra sharp or sharp cheddar cheese
6 oz. Colby longhorn cheese
1 jar pimentos, diced
1/3 c. + sweet pickles
1/2 c. +/- Miracle Whip
sweet pickle juice
Instructions
Using a hand or electric grinder or a food processor, grind or shred cheeses.
Grind or chop pickles. If grinding pickles, grind directly into the ground cheese.
Combine the cheese, pickles and pimentos with 1/2 of the Miracle Whip in a large bowl.
Add more Miracle Whip incrementally until you have a good consistency.
Add sweet pickle juice, if needed, to get the taste and consistency that you want.
Place in the refrigerator for a couple of hours at least before using.
Serve on bread, crackers, burgers, hot dog, celery, etc.
Notes
You can use already shredded cheese, but I don't like the result as well. If you chop the pickles by hand, you will most probably need to add pickle juice to achieve the right consistency and taste. I use ground slice sweet pickles that make for very small pickle pieces throughout the spread. The amount of pickles should be adjusted to your taste. The amount of pickles and Miracle Whip in the recipe is really an estimate.
https://www.asimplehomecook.com/dads-pimento-cheese/
2017