I am always amazed by the magic that happens when you slowly cook a cheaper cut of meat in a crock pot  for several hours.  I think my favorite of these crock pot friendly meats has to be a pork shoulder (Boston butt) roast.
A pork shoulder roast makes great pulled pork for a variety of dishes from sandwiches to soups.  For example, you can make pork barbecue quesadillas, Cuban sandwiches, and Brunswick stew using the crock pot cooked pork.  Of course, you could always just eat the plain pulled pork. If you aren't cooking for a large group (or if you have a large enough roast) you can even have it multiple ways for multiple meals.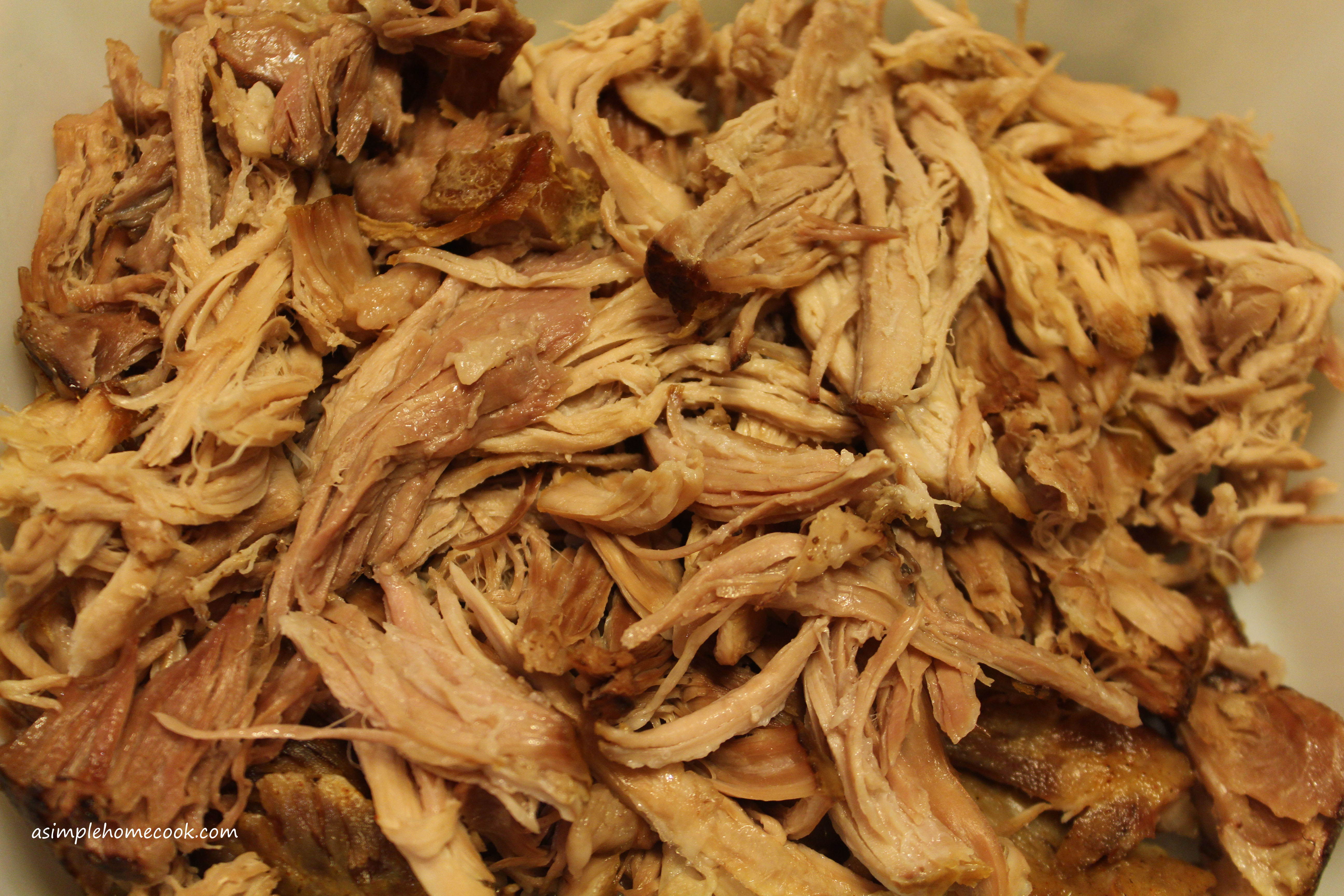 While you can spend a lot of time making a marinade or elaborate dry rub hours before starting to cook your pork roast, I think that sometimes it is better to keep it simple.  To me, simple means cutting several slits in the roast and and adding the seasonings just prior to putting it in the crock pot with a flavorful braising liquid.
Here is my take on the easy,  prep-and-forget dish with a couple of the many possible seasoning options noted:
Easy Crock Pot Pulled Pork
Ingredients
Pork shoulder or Boston butt roast,bone-in (small enough to fit inside the slow cooker you are using)
Seasoned salt or Adobo (or salt, paprika, garlic powder, and onion powder)
white pepper
garlic cloves (optional)
1 yellow sliced or chopped onion (optional)
vegetable or chicken stock
Instructions
Using the tip of a knife, cut several slits in the pork roast.
Coat the roast lightly with seasoned salt and rub it into slits.
If desired, place a slice or clove of garlic in all or some of the slits.
If using, place onion on the bottom of the crock pot.
Place the roast in the crock pot.
Add enough stock to cover about 1/3 of the bottom of the roast.
Cook on low for 6 to 8 hours plus until the bone comes out clean.
Pull/shred roast and serve as desired.
Notes
Add 1/2 cup of orange juice prior to adding the stock and cumin to the dry seasoning for more of a Cuban flavor.
https://www.asimplehomecook.com/easy-crock-pot-pulled-pork/
2017