Whether it is a quickly prepared meal for a busy weeknight or a dish needed to take to a friend who is ill or had a death in the family, casseroles are my "go-to" dishes. Besides being comfort food, they usually reheat well and can often be frozen…a great benefit when things are hectic.
The first time I had a pepperoni and pasta casserole was when someone brought it by my parents' house when my mother had surgery. It became one of my favorite casseroles to make and eat.
This recipe is super easy, quick and tasty. It is good alternative to making a pizza from scratch.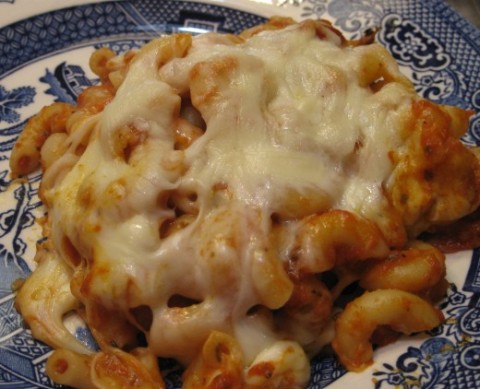 Recipe: Pepperoni and Pasta Casserole
Ingredients
1 lb. pkg. elbow or spiral pasta
1 jar pasta sauce
3 c. shredded mozzarella
sliced pepperoni
Instructions
Preheat oven to 400 degrees.
Spray a 13 X 9 inch baking dish with nonstick spray.
Cook pasta as directed until it is al dente.
Mix pasta, sauce, 1 c. of cheese and desired amount of pepperoni until well distributed.
Cover the top with the remaining cheese.
Bake until heat through and cheese on the top is completely melted. Approx. 10 – 15 minutes.
Variations
You can use turkey pepperoni instead of traditional pepperoni.
You can add any pizza-type topping including mushrooms, sauteed onions, cooked sausage, and olives.