My mom and maternal grandmother made the best blackberry pies and cobblers. Although I was only nine when my grandmother died, I still remember how wonderful her blackberry cobbler tasted. Her cobbler was a double crust of pie dough in a 9 X 13-ish pan. I know that she made blackberry cobblers more often than pies; I imagine it was because she had 7 children and a variety of their friends and other family members were frequently around…a pie would not have been big enough.
My mom's blackberry pies and cobblers were very good, but just did not seem as good as my grandma's. More than a decade after my grandmother died, one of my uncles asked my mom to make him a blackberry pie like their mom used to make. Although she was a little surprised because he had not asked her to make him anything in decades, she happily obliged his request. She served him a piece of it and asked him how she did as she was packing up the rest of the pie to send home with him. His reply was that it was good just not as good as their mom's. He went on to tell her that their mother added some lemon juice to the blackberries and he thought that made the difference. Mom replied, "Well, if you knew how she made it why didn't you make your own or at least tell me before now." His reply, "I thought you knew."
From that day on my mom added lemon juice to her blackberry pies and cobblers…they finally tasted like my grandmother's cobblers.
Beyond the lemon juice, the key to a good blackberry pie is to have a lot of blackberries, the appropriate amount of sugar, the appropriate amount of flour, and a few pats of butter.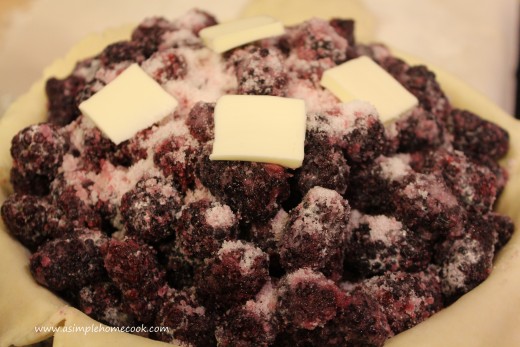 Finding the appropriate amount of sugar and flour can be a little tricky. Tasting a berry or two will let you know how sweet/tart the berries are and perhaps a hint of how juicy they are as well. This is easy to do with fresh berries, but frozen ones can be a little trickier.
Another tricky area can be the amount of berries that my grandma and mom taught me to use. The mound of berries can sometimes cause an issue with certain crusts.  While some crusts, like the Never Fail Pie Crust, tend to hold their shape and not crack, others tend to crack and fall apart more as the berries cook. To my surprise, the usually durable Cream Cheese Pie Crust cracked atop the blackberry pie.