Crunchy, moist, delicious, and fried to perfection…that is my best description of the Southern chicken from Hattie B's Hot Chicken. I think it was the best fried chicken I have ever eaten.
Nashville is known for a local specialty, Hot Fried Chicken…spicy hot. Some of the hot chicken places only offer varying degrees of heat…no mild option. Thankfully, Hattie B's is not one of them. The lack of a red spicy hue indicates that it is indeed mild chicken, but it is still full of flavor…great flavor.
If your looking for that Nashville spicy heat, Hattie B's offers up several levels.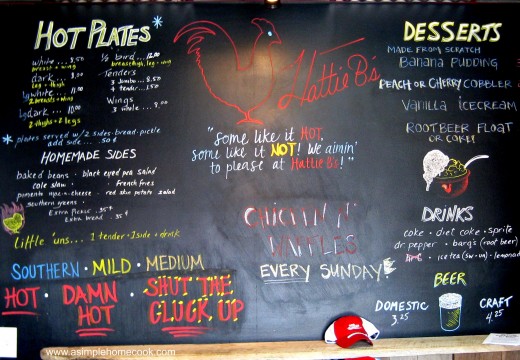 The thing that really makes Hattie B's a must-eat place for me isn't the chicken…it is their wonderful sides. The sides really tasted scratch made. The baked beans were yummy. The cole slaw was different and delicious. The pimento mac and cheese was pure genius; the flavors of a good pimento cheese spread and great mac and cheese were perfect together. They have seriously good sides.
As my husband picked up our food to go, I can't really say speak about the ambiance, service, etc. I can say that on a Friday afternoon there was not much of a line to order and the wait for the food was not long.
Hattie B's is definitely worth checking out.
Hattie B's Hot Chicken