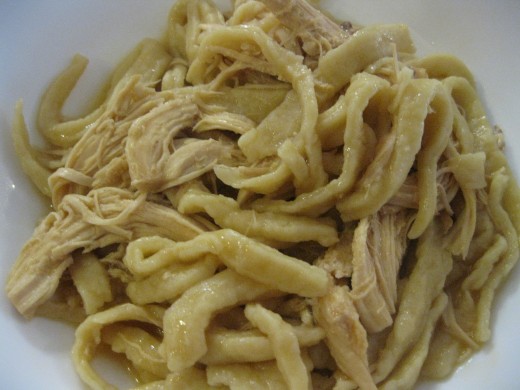 If you are hoping I am going to share my mom's noodle recipe, I am – Reames Frozen Homestyle Egg Noodles. Really, that was it. She rarely made her own noodles after finding Reames in the 1970's. Yes, she did make them on rare occasion, but I am not sure what recipe she used.
I use my paternal grandmother's recipe to make noodles. (I rarely can buy Reames where I currently live). Frankly, they are pretty easy to make and don't take nearly as long to cook.

Recipe: Homemade Noodles
Ingredients
2 eggs
2 tbsp. milk
2 tsp. salt
flour, enough to make a stiff dough (okay, that is all my grandmother's recipe said,but in realistic terms it is about 1 1/2 to 2 cups of flour)
Instructions
Mix all ingredients to form a dough that stiff enough not to stick to everything, but soft enough that you can roll it out.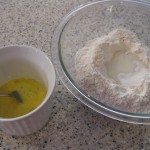 Roll out to a thin sheet.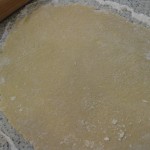 Cut into fine strips either with a pizza cutter or by lightly dusting top of dough with flour and rolling up like a jelly roll and making thin slices with a sharp knife.
Allow to dry for 15 – 30 minutes before cooking for best results. Adding a dusting of more flour before leaving to dry will give you better results to cook the noodles.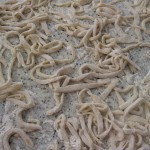 Cook in boiling liquid until tender. The time depends upon the thickness and size of noodles, but it often is between 10 to 15 minutes.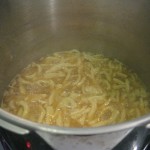 Quick Notes
You can cook noodles in beef or chicken stock.This recipe does well with a 32 oz. container of stock.
I add shredded chicken or beef that I usually cook in part of the liquid before making the noodles.
If you cook chicken in a pressure cooker, you can make the noodles while the chicken cooks. By the time the pressure releases naturally, your noodles will be ready to cook.
Number of servings (yield): 4 – 6