I knew that every time I mentioned buying avocados to make guacamole my husband turned up his nose. It wasn't until last year when we went to a Ovelle's, which is known for really good guacamole made table side, that he finally confessed to never eating freshly-made guacamole and did not like any that he had tried.
Since it was my birthday, he said he'd try some if I wanted to order it. I did and he really liked it.
This year, I said I would make guacamole if I had a molcajete (mortar and pestle) as the guacamole made in one at the restaurant was so good. (Of course, I knew that you can make guacamole without one as I did the first time I made it…in Girl Scouts…when I was probably nine). Out of guilt that he was going out of town for Mother's Day, my husband bought me a mortar and pestle. (He usually doesn't buy Mother's Day, etc. gifts). Mine is not the traditional lava rock of Mexico, but rather a slightly easier to clean granite one.
On Mother's Day, my daughter and I made guacamole using my new mortar and pestle. Yes, we could easily have made it using a bowl and fork, but it was extremely easy to make using the mortar and pestle.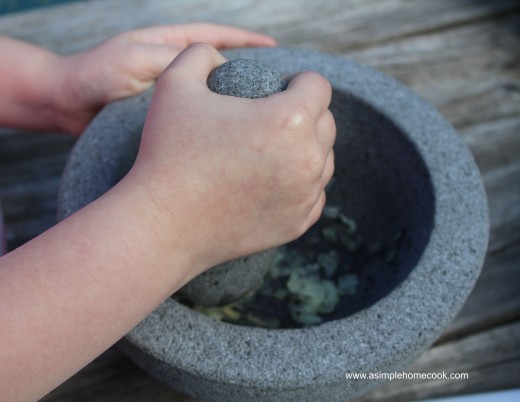 The mortar and pestle made quick work of turning the shallot, garlic, and part of the cilantro into a chunky paste. I'm sure if we had added a fresh chili pepper it would have easily turned it to paste as well.
The avocados were so easily mashed that we actually got it a little smoother than I had intended.
The final product was wonderful…just way too much for the two of us 🙂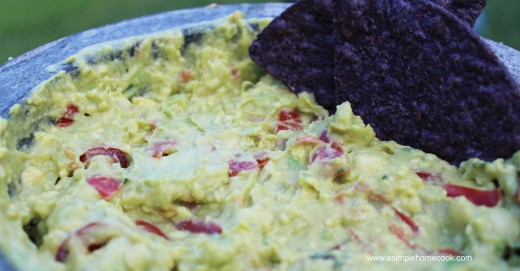 SELECTING AND PREPARING AVOCADOS
The most difficult part of making guacamole is finding avocados that are ripe, but not too ripe. The Haas Avocado Board has a nice chart showing the stages of an avocado's ripeness. If I don't plan on using them that day or the next, I like to buy hard avocados and leave them on the counter to ripen in several days or in a paper bag with a banana or an apple to have them in a couple of days.
Once they are soft enough to give some under gentle pressure, they are ready to use. Holding the fruit with a towel, just split the avocado in half using a sharp knife to through and around the avocado. Use the knife to gently pry one section from the other. Set the half without the pit aside. Place the half with the pit in one hand and strike pit with the knife to embed it slightly in the pit. Slightly turn the pit and it should release from the avocado half. Or, you can scoop the pit out with a spoon. Use a spoon to remove scoop out the flesh from the avocados skin.
THE RECIPE
Although there are many variations of guacamole, here is the one I make. Sometimes I include garlic, sometimes I don't. Normally, I don't include chili peppers (Serrano, jalapeno, etc.) unless I'm making it for guests who like the spicy heat.
You can serve it right out of the mortar. It is a great dip for chips or veggies. Blue corn or other non-GMO tortilla chips are my favorite.