When I was in junior high, we raised money for our Girl Scout troop to go to England.  One of the thousands of projects we did was sell hot dogs at a booth at our county fair each year.
The hot dogs were a hit in part due to the sauce (a.k.a. chili in the southern part of our state) we served.   A few people wanted to buy just the sauce and several asked for the recipe.  I don't remember if we sold them the sauce except on the hot dogs, but I do know that we were never able to share the recipe.
Why?  My mom made the sauce and she never used a recipe. However, it was always very good.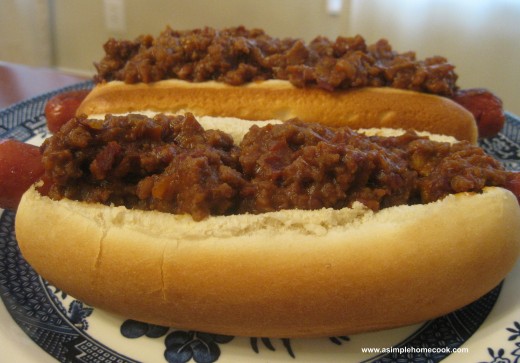 I think that one thing that made my mom's hot dog sauce different was that she usually made it with pureed kidney beans. She used the pureed beans when she ran out of tomato soup one day.  The result was a very tasty sauce that did not taste like it contained kidney beans, but was thick and flavorful.
The side benefit of the beans is their high fiber content increasing the nutritional value of the sauce. I mean when your adding a meat sauce to meat, more fiber seems like a very good thing to me 🙂
As with most food, whether you eat sauce on your hot dogs and what you like the sauce to taste like is just personal preference. My mom's hot dog sauce is slightly sweet with a hint of acid that can be spiced up by adding seasonings with heat.
Here is my take on her classic hot dog sauce:

I really like dried onions best for this recipe, but fresh, diced onions can be used instead.  You'll need to cook the onions as you cook the beef.
I have been adding turmeric to a lot of dishes lately after reading about some of its supposed health benefits.  It does not add much taste just a little color.   It can easily be omitted if you don't have it or want it.  Other seasonings used can be added to suit your taste.
If you want a West Virginia hot dog experience,  just add  creamy coleslaw (no mustard, that may be a Southern slaw dog, but not a WV slaw dog) or chopped raw onion on top of the sauce.
Enjoy!