There is quite a bit of irony that nearly every year of my early life I asked for a Coca-Cola Cake for my birthday. First, it is a chocolate cake and I am not the biggest fan of chocolate. Second, I really preferred Sprite or other non-cola drinks when I was young. Last, my mom's recipe was called a "Pepsi Cola Cake."
What exactly was the appeal then? My mom's cola cake was very tender, moist, and not overwhelmingly chocolaty, but I think the biggest draw was that I loved the icing.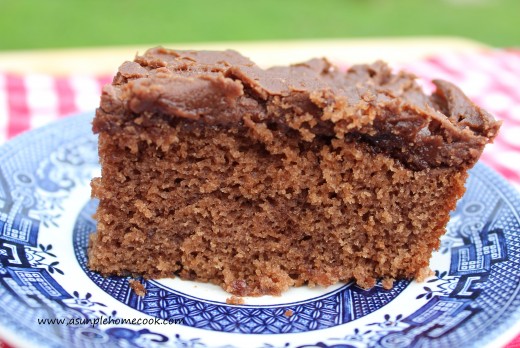 I still love cola cake and I still get it for my birthday. This year, my daughter made it (with a little help from me as I did not want her pouring boiling hot liquid into a mixer bowl). She did a great job.
My daughter will not be asking for a cola cake for her birthday in a few weeks. She actually does not care that much for chocolate either and she thinks the cake is too sweet and rich. The icing is her least favorite part….(sigh). I will admit that I can no longer eat as much of the cake as I did when I was young…it is richly filling and the icing is very sweet.
There is one other irony, of sorts, about me asking for a Coke birthday cake: my birthday is in the middle of July and my parent's never had air conditioning in the kitchen. It was not until I became an adult that I realized that I should have asked for an "icebox" cake instead.