I enjoy eating Brunswick stew when I find it on the menu of barbecue joints/restaurants here in the South, but my sensitivity to acid (and being wimpy about spices) usually leaves me with a half-uneaten cup of stew and an allergic reaction. Thus, I decided to make my own and just not included as much vinegar (and reduce the spicy heat)…that was when my real problems started.
There are apparently as many recipes and opinions about Brunswick Stew, a southern classic, as there are people who make it. There are those who insist it must be slowly made in a cast iron kettle over an open fire. (I can relate to them because of my apple butter beliefs). There are those who argue that it originated in Virginia. There are those who argue it originated in Georgia. There are those who include potatoes, and those who would never consider adding potatoes. There are those who believe true Brunswick stew must contain  squirrel, rabbit, or other wild game. There are those who believe it only needs to contain a variety of meats, preferably smoke enhanced ones that are leftover from a barbecue.
Frankly, growing up in West Virginia the only time I heard Brunswick Stew mentioned it was referring to a stew made with squirrel (and sometimes rabbit) meat…it was also called squirrel stew.  However, I don't remember eating it, let alone making it.
So, I searched cookbooks and the Internet. I read lots of recipes and opinions. In the end, I just tried to replicate (albeit with less acid and spice) a Brunswick stew that I had from a barbecue restaurant by winging it. The result was wonderful, even if I do say so myself, lol.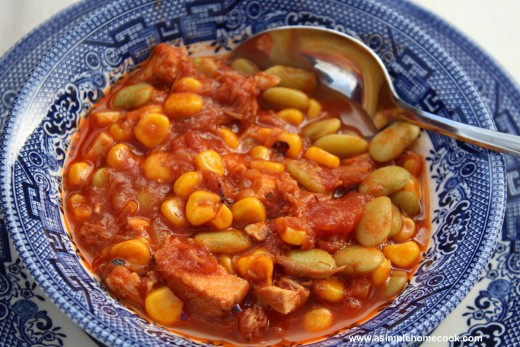 I did create a recipe that I have been able to replicate thus, I feel I can share the it with you. However, if you don't live near a barbecue joint or similar place that sells their smoke imbued meat by the pound, you may not get the same flavor profile as those of us who do…or at least not without added work of using that backyard barbecue smoker 🙂 Really, if you don't have access to barbecue restaurant smoked meats, you can get a similar smokey flavor by adding smoked meat from a smoke house (even better if you have one of those in your area) like smoked pork chops, turkey, or bacon. Or, you could use some liquid smoke instead.
The liquid smoke is available in most grocery stores or online and does add a smokey dimension when nothing in the dish has been smoked. Be careful when using liquid smoke as a little tends to go a long way and too much will ruin your stew. You will need to experiment with what brand/flavor of liquid smoke you have to get the right amount, but start with a small amount!