Gelatin salads remind me of my grandmother.  I think she made a different one for every holiday.  I loved ones with fruit and without cottage cheese.  Cottage cheese in any gelatin salad was always a dissappointment to me and was not something I would usually eat…despite liking both Jello and cottage cheese seperately.
I was particularly enamored with foamy/creamy gelatin. . . if it was creamy for the right reasons.  A parfait of clear Jello layered with whipped Jello was a wonderfully remarkable dessert to me.  It was also one that was never found at my grandmother's house.  Although, the Jello product "3-2-1 Jell-O" mean that there was a similar dessert in my parent's/my house in the 1980's until it was discontinued.
I think it was my fond memories of these favorites from my past that lead me to change up a recipe for pear Jello salad into a layered desert with pears.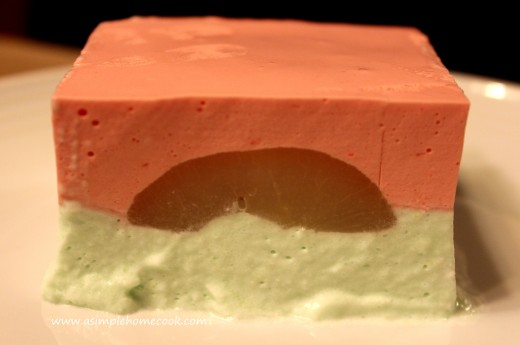 I made it with cherry and lime jello for Christmas but it can be made with whatever flavors you would like to "pear" together (I couldn't resist).  You can also make it with just one flavor of gelatin.
Ingredients
2 sm. boxes of flavored gelatin (Jell-O, Royal, etc)
2 c, boiling water
4-15 oz. or 2-28 oz. or 2 qts. canned pears
16 oz. whipped topping (Cool Whip, etc.)
8 oz. cream cheese
Instructions
Dissolve 1 small package of gelatin in 1 c. of boiling water in a large bowl.
Add one cup of reserved. juice to the liquid gelatin.
Place pears and sliced/chopped cream cheese in a blender (or use of submersion blender) and blend thoroughly together.
After gelatin is cooled to lukewarm, add it to the pear mixture and blend well.
Pour mixture back into the bowl and mix in 8 oa.whipped topping until the mixture is a uniform color.
Pour mixture into a 9 X 13 pan and place in the refrigerator.
Drain remaining pears VERY WELL, reserve juice.
Dissolve remaining box of gelatin with one cup of boiling water in a large bowl.
Add 1 cup of reserved juice to the gelatin.
Stir in 8 oz. of whipped topping until mixture is uniform in color.
Pour second gelatin mixture over the pear topped other layer of gelatin and refrigerate several hours until set.
Notes
Either one or two flavors of gelatin can be used. Pears between layers can be omitted if desired. To make less, complete the first steps for. 1 box of gelatin. You can still use a 9 x 13 inch pan if you do not want a layer salad. Or, place in an 8X8 or 9X9 and place half of the mixture in the pan, refrigerate the first half, add pears, and then add the second half of the gelatin mixture.
https://www.asimplehomecook.com/pear-jello-salad/
2017