Today I have a guest chef, my husband. It is New Year's Day and I am sick, thus he volunteered to cook. 🙂 I am very grateful. He did ask me how to fix everything, but he did a great job.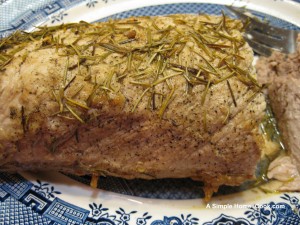 I once made this roast recipe for some friends and now it is what one of them wants every time I invite them for dinner…in fact it is what she wanted as a gift for graduating with her nursing degree.
This method yields a moist, tender roast that is full of flavor. I love rosemary, but in reality it can be omitted or another herb substituted.
It is super simple and can be made using the loin or tenderloin. Other cuts may work also, but I have never tried any.

Recipe: Rosemary Pork Loin Roast
Ingredients
1 pork boneless pork loin or tenderloin
1 – 2 Tbsp. olive oil
1 to 1 1/2 c. vegetable stock
dried rosemary
season salt
black pepper
Instructions
Pour olive oil into a large skillet. Brown lean pork roast on all sides.
Transfer to a 9 X 13 baking dish.
Add season salt and pepper to taste.
Add vegetable stock to dish. The stock should be at least 1/4 inch deep (more will not hurt).
Add generous amount of dried rosemary to top of roast.
Cover with foil.
Bake at 350 degrees until internal temperature reaches at least 165 degrees F (USDA recommends min. of 160).
Let rest 10 – 15 minutes before slicing.
Quick Notes
Length of cooking time varies with size and type of roast.
If using tenderloin, make sure all of the "silver skin" is removed before browning.
Variations
Rosemary may be omitted if you don't like it or would prefer a plain roast.
Sage or other herbs could also be used.