Stuffed mushrooms are one of my favorite appetizers and finger foods.  Moderately high in nutrients and relatively low in calories, mushrooms pair nicely with a variety of fillings. As cultivated mushrooms are in season year round, they are great for  any occasion . . .or no occasion.
My favorite type of mushroom filling contains seafood.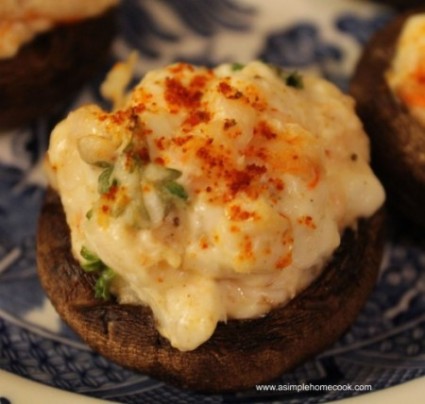 Because of cost and availability, I most often use shrimp in my mushroom seafood stuffing, but you can substitute lobster or crab for the shrimp. In fact, I currently have a couple of lobster tails in my freezer that I picked up on special at Earth Fare before Easter that I thought about using to stuff mushrooms, but shrimp are so easy to use…
Unlike when I make sausage-stuffed mushrooms, I like to partially precook the mushrooms to get some of the water out before they are stuffed when I make a seafood filling. I recently saw on television a tip to turn them upside down on a wire rack on a baking sheet to precook the mushrooms.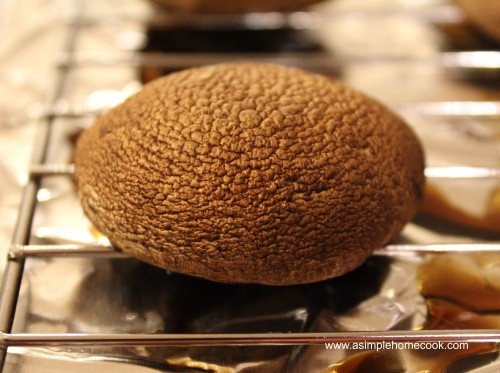 It worked well, but I was so excited to try using a rack that I forgot to coat the mushrooms caps lightly with olive oil before baking them. I did learn that they still turn out okay without the oil.
I developed a couple of versions of shrimp filling for stuffed mushrooms because my husband can't eat soft cheeses, like cream cheese, due to his milk allergy. He loves stuffed mushrooms and shrimp, therefore I had to come up with a second, cream cheese-less version.
Although I like them both, I think this cream cheese version is my favorite. I find myself eating it by the spoonfuls as I "test-taste" it 🙂
I am honored to have been asked by Earth Fare to write this post in exchange for a gift card to buy the ingredients. I love shopping at Earth Fare not only because of the great quality of food, but because they offer such great deals and coupon, They did not ask me to share my opinion; it is my own. You can find all the ingredients for this recipe at Earth Fare.