I must confess. . .I have changed the name of this recipe. It is from my Aunt Nina and it was titled "Stuffed Mangoes in a Skillet."
No, I have not changed one of the main ingredients. Green peppers were/are called mangoes in Eastern Pennsylvania, West Virginia, Ohio, and Indiana. They may have been/be called mangoes in other areas of the Midwest as well.
The Word Detective gave an explanation of why green peppers were referred to as mangoes. It has roots as far back as the colonial era when the mango fruit ("real" mangoes) were brought to this country in pickled form from Asia. Eventually, the term mango would refer to almost any pickled food. Peppers were often stuffed with cabbage and pickled. Green peppers became known as mangoes or mango peppers.
Today, many people have stopped using mango for pepper as the fresh mango fruit has become more common.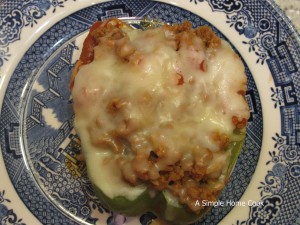 I have another confession. . . I have changed the recipe. It is still my aunt's basic recipe but with a couple of changes for practical purposes e.g. going from 3/4 lb. of ground beef to one pound based on how my bulk beef arrives.
Recipe: Skillet Stuffed Peppers
Ingredients
3 green peppers
1 lb. ground beef
1 small onion
salt and pepper to taste
1/3 c. minute rice
3/4 c. tomato sauce
1/2 tsp. sugar
Pinch of basil
1 c. cheese
1 to 1 1/2 c. tomato juice
1 tsp. sugar (yes, more sugar)
Instructions
Split peppers in half and remove seeds and membranes.

Par boil peppers for 7 – 8 minutes until they have some tenderness but are not falling apart.

Meanwhile, cook ground beef, onion, salt, and pepper until meat is well browned.
Add 1/2 tsp. sugar and basil to tomato sauce.
Add sauce mixture and rice to ground beef mixture.

Simmer 5 minutes for white rice or 10 minutes for brown rice.
Fill pepper halves with meat mixture.
Place the filled peppers in skillet.
Add 1 tsp. sugar to tomato juice.
Pour tomato juice over and around stuffed peppers.
Place cheese on each of the peppers.

Cover. Simmer 5 more minutes or until cheese is melted.
Quick Notes
I used grass fed, lean beef, thus I did not drain the beef.  If you use beef with enough fat, you may need to drain it after browning.
Brown instant rice was used in the pictures.
Dried onions were used  instead of fresh.  I prefer the flavor.
I use no or low sodium tomato products, so I add a little salt to the tomato juice.
The original recipe called for the cheese to be added to the meat mixture before stuffing the peppers.
You can use Velveeta, cheddar, or mozzarella cheese.