A Holiday meal just would not be the same without sage dressing(stuffing).
My family never stuffed the bird, thus we called the bread mixture dressing. I was told it was dressing because it was baked separately from the bird. However, I notice that the words are used interchangeably and maybe slightly regional.
Several years ago, my sister saw someone making muffins out of stuffing. She decided to try it so we would not have to argue over who got the corner pieces, because everyone in our family liked the crusty pieces best.
They turned out great. We now make all of our dressing into muffins for every holiday.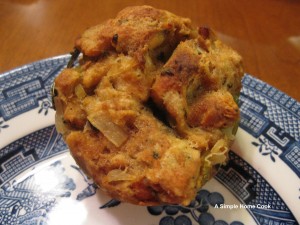 Recipe: Stuffin' Muffins
Ingredients
3 loaves bread
3-4 stalks celery, sliced
2 med. onions, chopped or diced
3-4 Tbsp. butter
1 c. whole dried sage leaves
1 32 oz. container chicken stock*
Instructions
A few days before you want to make dressing, break bread apart and place in large container. Cover with light towel. Allow bread to dry out completely. Or bake bread slices on baking sheets in a 275 degree oven for several minutes until bread is completely dried.
Preheat oven to 350 degrees.
Saute celery and onion in melted butter until both are very soft.
Add celery/onion mixture to dried bread in a large bowl.
Rub dried sage until it is in small pieces and place in bread mixture.
Add enough chicken stock so that the bread is very moist and sticks together well, but not totally saturated. Form into balls and place in muffin pans that were sprayed with nonstick cooking spray.
Bake for approx. 45 minutes or until well browned.
* Amount of chicken stock may vary depending on size of bread loaves, etc.  I always like to have extra on hand, in case I need it.
Variations
You can boil celery and onions in 1/3 of a cup or so of water instead of sauteing them. It does reduce the amount of fat and tastes just as good. (My mom always boiled them).