I was reading through some of my cookbooks looking for a new way to fix mushrooms and instead found a recipe for "pickled" green beans.  It was in one of my favorite cookbooks, A Taste of Toronto (Ohio, that is).  So, I decided to give them a try.
Although they were called pickled green beans, they were not the canned pickled green beans of my childhood. I was positive they should not be called pickled green beans after I made them (although they did taste a little like a pickled green bean). So, I changed the name…and the recipe.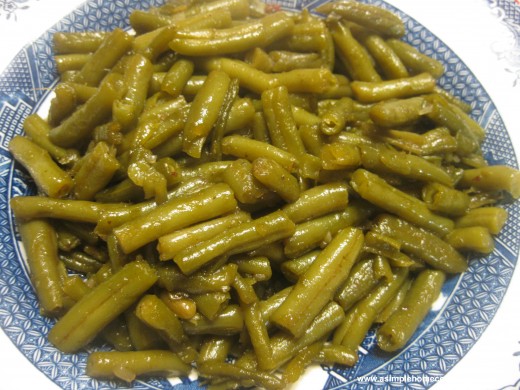 Although I liked the original recipe, it was a little bland. I added onions and some spice to the dish. The result was yummy!
I thought the dish was more of a sweet and sour dish rather than a pickled dish; a little Internet research would show I was not the only one. There were several versions of this dish out there…all called sweet and sour green beans.

These sweet and sour green beans go great with ham and other cuts of pork.
Enjoy 🙂