Several years ago, we grew Swiss Chard in our garden.  It was fantastic fresh out of the garden and simply prepared.  Since then,  I have purchased it at the store occasionally.  Although it is good, it is not as good as eating it fresh from the garden.
I decided to change up the way I prepared it and add the flavors of one of my guilty pleasures…a wilted green salad with hot bacon dressing.  However, I wanted to cook the stems and the chard a little more than just wilting it with a hot dressing.
Here is the result: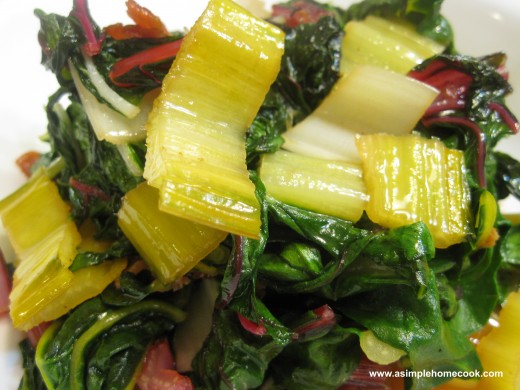 Recipe: Swiss Chard With Bacon
Ingredients
1 large bunch of Swiss chard
3 – 4 strips of bacon
1/2 Tbsp. olive or walnut oil
1 clove garlic, finely minced
1/3 c. vegetable or chicken stock
salt, to taste
1 1/2 – 2 Tbsp. cider vinegar
1/4 c. +/- sugar
Instructions
Prep Swiss chard by cutting stalks into 1 1/2 to 2 inch pieces and greens into 2 to 3 inch strips.
Fry bacon until crispy in a large, deep skillet or dutch oven. Remove from pan and set aside.
Add oil. Once oil is hot, add garlic.
De-glaze pan by adding stock.
Add stems of Swiss chard and allow to cook for a couple of minutes before adding leaves.
Add crumbled bacon.
Once leaves are placed in pan, cover and cook for about one minute before stirring.
Leaves will start to wilt immediately.
Mix vinegar and sugar in a small bowl.
Add salt and vinegar mixture to greens.
Make sure leaves are coated.
As soon as leaves are wilted, remove from pan and serve warm.
Quick Notes
Other types of vinegar can be used.
Other sweeteners can be substituted for sugar.
Like other greens, the volume will greatly reduce as they cook. The wilted volume is significantly less than half the raw volume.
Cook time for the leaves is about 3 to 4 minutes.
Although there is some bacon, it is still a relatively healthy vitamin and mineral laden dish.  It can be fixed without the bacon for a healthier version.