Chattanooga has a variety of restaurants (and a few stands) that sell tacos. Some of the places sell authentic Mexican and/or Tex-Mex tacos. Taco Mamacita's is not one of them. It does not claim to be.
Taco Mamacita's tacos are more of a creative fusion than the standard offerings. They reflect a variety of flavors from Asian to Caribbean.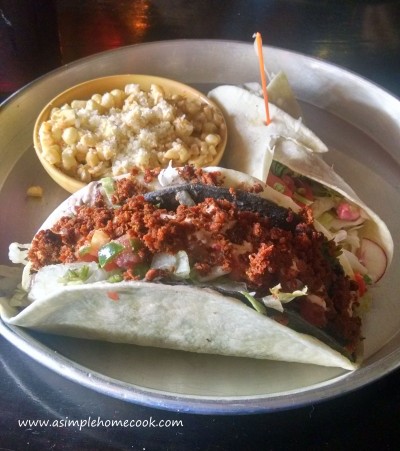 I have a couple of favorites: Korean BBQ and the Taco Royale. I was told the Taco Royale is probably their most popular taco. It is the only taco that has a hard blue corn shell. The hard shell is then wrapped in a standard soft shell found on the other tacos. One of the proteins found in the Taco Royal is chicken. I wonder if the chicken is the same as they serve in their Peurvian Chicken dinner.
Although I have never had anything except the taco dinners, I have been intrigued by the Peruvian Feast. The Feast is a family-style dinner with chicken, sides, salads, and sauces for under $30. It seems like it a good deal to me.
They several different sides from turnip greens to Mexican street corn. I find it unusual that you have the choice of the corn either on the cob or off.
Dessert? I recommend going to Milk and Honey. It is in the same shopping center as Taco Mamacita and owned by the same people. They offer house-made gelato, popsicles, and other treats.
Taco Mamacita's is a locally owned and operated business in Chattanooga. However, they expanded to include to other locations: Nashville, TN and Sullivan's Island, SC.
One last tip for your first trip to Taco Mamacita, try to go at an off hour as this place gets busy and the parking lot gets full.