If you are in the Knoxville, Tennessee area and in the mood for a crepe or just something different, I recommend checking out The French Market Creperie.
This small, cute shop located in downtown Knoxville on South Gay Street has deliciously filled crepes served by a very friendly staff.
We went for dinner. We were able to eat at the tables outside and enjoy a nice warm evening which I think added to the overall experience. There are tables inside as well though.
We really did not have to wait long for our freshly made crepes. Unlike other crepes I have had, none of our crepes were rubbery. In fact, they were very tender 🙂 The crepes were all filled with what tasted like quality ingredients.
We had one sweet crepe and two savory.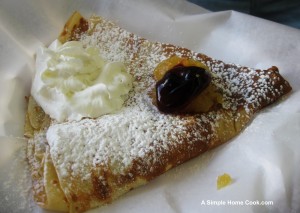 The Blueberry Lemon Curd Crepe had a pie-ish filling instead of fresh blueberries, but was very tasty and sweet. I am told the lemon curd was fantastic.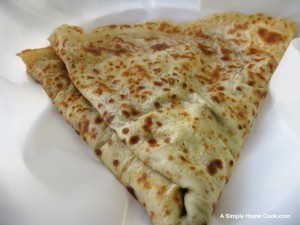 Both savory crepes had quality cheese and thin sliced meats. The imported ham in the ham and cheese had a melt-in-your mouth quality. Delicious!
According to their website, the Nutella and fruit crepes are the most popular. By the amount of jars of Nutella I noticed, I have no doubt they are very popular.
All of the crepes were reasonably priced compared to another creperie I recently discovered in the same region (not the same city). Plus, this restaurant had very good food and service:)