It is truly fantastic what wonderful things can be made from cheese and tortillas.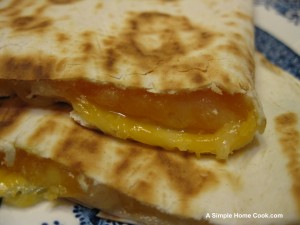 My favorites to make at home are breakfast burritos and quesadillas. Yes, they are extremely simple, but they are also extremely versatile and delicious.
We often have them in the same week because I like to use leftovers.
First, I make breakfast burritos for either breakfast or dinner. Although, I don't think I would call it a true recipe here is how I make them.

Recipe: Breakfast Burritos
Ingredients
1 lb. sausage
1 sm. to med. onion
1 bell pepper eggs
salt (optional) (use with caution because of the saltiness of the sausage)
black pepper (optional)
tortillas
shredded cheese
sour cream
salsa
Instructions
Cook sausage thoroughly in a skillet.
Remove cooked sausage to a dish and set aside.
Drain excess grease out of pan leaving up to a tablespoon to remain.
Saute onions and peppers in same skillet.
Remove to another dish and set aside.
Scramble eggs adding salt and pepper to taste, if desired.
Warm tortillas between paper towels in the microwave.
Construct burritos by adding cooked ingredients in a line down the tortilla along with any toppings like shredded cheese, sour cream, salsa, etc.
Fold into a burrito.
Variations
Many, many other ingredients may be used with or in place of any in the burrito recipe: bacon, ham, potatoes, hot peppers, mushrooms, and spinach are a few.
I then take the leftover tortillas, cheese,and sausage and make quesadillas a day or so later.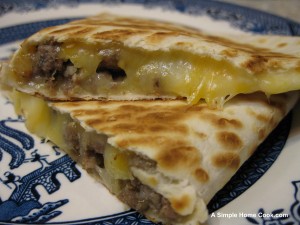 Recipe: Quesadillas
Instructions
Put the tortilla in a warm preheated skillet.
Cover with shredded cheese and any other fillings ie. warmed cooked sausage.
Then cover the filling with another tortilla and flip it over.
Or just place the fillings on half of the tortilla and flip the other half over the ingredients instead of adding a second tortilla.
Cook until the cheese melts.
Variations
Other fillings possibilities include, chicken, shrimp, bacon, mushrooms, and salmon to name just a few.