You can plant a watermelon up above my grave,
And let the juice (slurp) ooze through,
You can plant a watermelon up above my grave,
That's all I ask of you.
These lyrics are part of my favorite song…when I was six. So, why am I quoting a song I learned in first grade? Well, I loved the song then because it was about my favorite food, watermelon. Today, watermelon is still my favorite food. Yes, just plain, cold watermelon.
However, I occasionally buy watermelon that is not as sweet as I would like or is a little past its prime ripeness…mushy. One way not to waste these melons and make a frozen treat is to turn the watermelon into sorbet.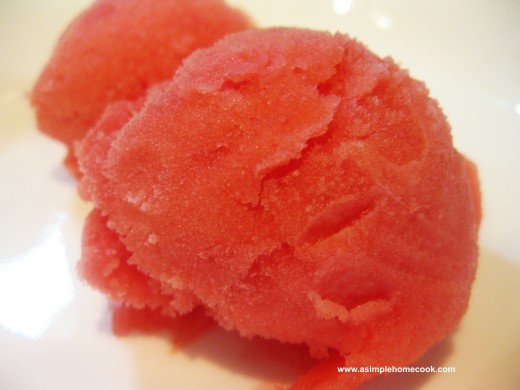 Since the recipe only takes about one-fourth of a large seedless watermelon, I also use the watermelons we eat for sorbet as well.  I would say that it is a good way to use left-over watermelon, but there never is such a thing at my house. Plus, I use the same basic recipe to make honeydew and cantaloupe sorbets.
I make sorbet in my electric ice cream freezer that does not require ice and salt. Although, you do not need an ice cream freezer at all if you are willing to keep scrapping and stirring the sorbet mixture in a pan every 15 to 20 minutes until frozen and then placing it in a blender or food processor to improve its texture. I prefer my ice cream freezer:

Here are some shots of it in action making the sorbet: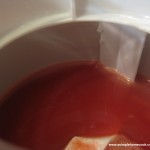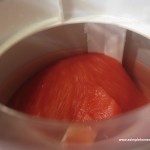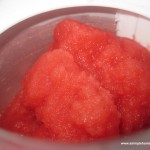 Although…I am still a great fan of the ice cream maker that my parents had that does require salt and ice: