I love this honey, brown sugar coated ham. In fact, I think my daughter and I love it almost as much as Winnie the Pooh loves honey. Even my husband eats this ham,and he does not like ham!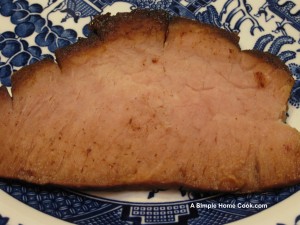 This ham is not only very yummy, it is also much cheaper to make than the spiral sliced ham that can cost $7.99 per pound. (It is the other kind of ham my husband will eat). I made this ham for $1.27 per pound. Granted, I did get a very good deal on the ham considering it only cost $.99 per pound on sale.
When I fix ham using this method, the ham is always tender, juicy and flavorful.

Recipe: Honey Brown Sugar Ham
Ingredients
1 butt portion ham
1 c. water
1 c. honey
1 c. brown sugar
1 Tbsp. cinnamon
1 tsp. ground cloves
Instructions
Preheat oven to 350 degrees.
Place ham in a 13 X 9 X 2 baking dish with larger, cut portion facing bottom of pan and fat side up.
Score ham with knife cutting in a half inch to an inch and cutting a checkered pattern.
Add water to dish.

Cover tightly with foil.
Place in oven to bake for 20 minutes per pound.
When there is about one hour cooking time left, remove ham from oven and drain off excess liquid until there is approx. 1 cup left in dish.
Cover ham  in honey. Use a pastry brush to make sure entire ham is covered.

Mix brown sugar, cinnamon and cloves in bowl.
Coat honey covered ham with brown sugar mixture sticking it to the sides of the ham as well as on top.

Return foil cover and continue to bake ham for another hour or until internal temperature reaches 155 to 160.

Let rest briefly before slicing.
Quick Notes
Adjust spice amounts to suit tastes. Adjust ingredients to fit ham size. This recipe is for a 6 – 9 lb. ham.