When I was younger, my family would often travel a couple of hours to spend the day and shop in Ohio's Amish Country. For lunch, we usually ate trail bologna and cheese on crackers that we would purchase from a local grocery store. Eventually, trail bologna became available in sandwich size slices instead of just its original rings, so we started buying sandwiches for lunch instead. These road-side lunches created great memories of time with family and of yummy, quality food.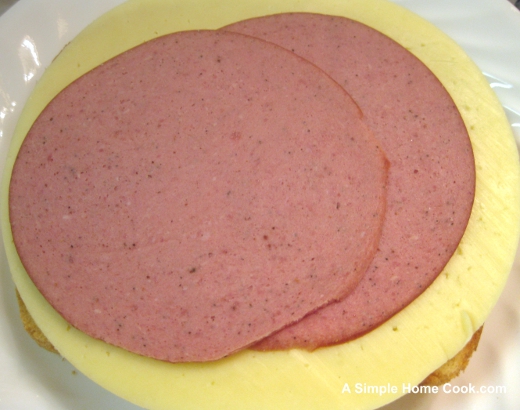 Frankly, I have never been a great fan of bologna. However, trail bologna is different. It has a different flavor and slightly different texture. It seems very lean to me, not fatty like other bologna.
It is manufactured in the very small town of Trail, OH by the family owned Troyer Company. According to their Facebook page, Michael Troyer created the all beef trail bologna in 1912. Having driven by the company on rainy days, I also believe their claim that they still smoke their product with wood like the previous generations.
They have a retail store in Trail, located between Walnut Creek and Winesburg on SR 515. Although, their trail bologna can be purchased at many stores in the area and around Ohio.
To get the full experience, you also need a good Ohio cheese. Baby Swiss, Yogurt, and Swiss pair vary nicely with the bologna.
The best Baby Swiss cheese is made by Guggisberg in Charm, Ohio. This family business actually has multiple manufacturing facilities now, but still produces artisan quality cheeses. You can order their cheeses directly from their website, from other stores' websites, or you can purchase the cheese from a variety of store in the Amish Country and beyond in Ohio.
Yogurt cheese (seen in the above picture) is not the cream cheese consistency of many yogurt cheeses. It is a cheese that contains yogurt cultures. It is made by Heini's Cheese Chalet, another multiple generation family company, near Berlin, Ohio. The yogurt cheese comes in several flavors, but I love the plain to pair with the bologna. Again, you can purchase Heini's cheeses from their website, other websites, or purchase them at stores in Ohio and beyond.
There are other quality cheese manufactures in the Amish Country area of Ohio. Although, there are apparently less than in years past. In case you are wondering why/how, there is a Swiss influence in the area. Most of the cheese manufactures were began by someone with training in cheese making in Switzerland before immigrating to the United States.
My family started going to the Amish Country before it became as popular as it is today, but the quality of the food and the products have not diminished over the years. My love of trail bologna and cheese has not diminished either. However, moving away has definitely made it an even more rare occasional treat.
Disclaimer: Despite how this article reads, I have not been compensated or solicited by any company or person mentioned. The opinions and experiences expressed here are strictly my own.