My paternal grandma's mincemeat pie was a much sought after item by relatives close and far on my dad's side of the family.  It was not turned down on my mom's side of the family either 🙂  It was a staple at the Thanksgiving and Christmas dinner table.
She and my parents tweaked her original recipe over the years. The end result was unlike any other recipe for mincemeat I have ever seen.  It was also the best mincemeat that I have ever eaten.
It is one of the few recipes that my grandma wrote down (just a list of ingredients and amounts, of course).  My mom's handwriting is on the updated recipe. It truly is a family heritage recipe that means the world to me.
Although I had not made mincemeat since well before my mom died, I finally made it this year.  It had been so long that I had forgotten some of the keys to making it and the new standards in food processing increased the time to pressure can the mincemeat  a significant amount.  Thus, I ended up overcooking (to ruin) a little over a third of the  mincemeat.  On the positive side: I remembered what I had forgotten; I learned from the experience of processing it longer; and I had two-thirds of the batch that turned out wonderfully.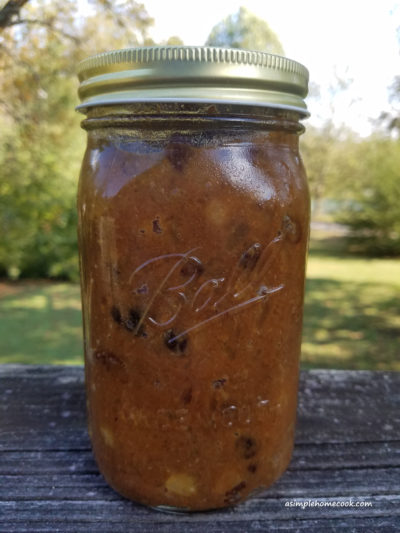 This is old-fashioned mincemeat; it contains meat.  If you have never eaten mincemeat, it is kind of hard to describe what it tastes like.  I am not sure if I would know there is meat in it from the taste. This particular mincemeat is very sweet and fruity tasting balanced by fragrant spices.
It is not the cheapest or quickest pie filling available, but it is SO worth the money and the time.  The recipe as written makes a large batch (16 – 17 quarts). One quart makes one pie.  Perhaps, you will want to start by dividing the recipe by three to make enough for just a few pies or tarts.
Ingredients
6 lbs. lean beef roast*
3 lbs. pork roast
21 c. chopped apples
3/4 to 1 gal. apple cider
2 1/2 c. beef or pork broth or stock
1/2 c. lemon juice
1 qt. pineapple juice
5 lbs. dark raisins
3 lbs. golden raisins
1 1/2 lbs. currants (optional) (These were in the recipe, but they were usually left out)
6 lbs. brown sugar
6 Tbsp. salt
1 c.sorghum or molasses
2 c. honey
2 Tbsp. ground cinnamon
1 Tbsp. ground cloves
Instructions
Cook beef and pork by boiling it or in a pressure cooker. Strain the liquid that the beef or pork was cooked in and refrigerate it until the fat hardens and can be removed from the broth. (This step is easiest if done at least a day before you plan to make the mincemeat). Use 2 1/2 cups of this broth for the recipe.
Grind the beef in a grinder or a food processor. If using a grinder, use a medium to large hole disk.
Chop apple finely in a food processor or grind using the same disk as for the meat.
Add broth, lemon juice, pineapple juice, and 1/2 gallon of apple cider to a very large pot or caner base over medium high heat.
Add in meat, apples, and raisins.
Stir in brown sugar, sorghum or molasses, honey, salt, cinnamon and cloves.
Lower heat to medium after mixture comes to a boil.
Stir often enough that the mixture does not stick.
Add more cider until you get the desired consistency. Add up to a quart more cider if you plan to pressure can the mincemeat. Add up the gallon if you plan to freeze the mincemeat.
Cook the mincemeat for 1 hour if you plan to pressure can it. Cook the mincemeat for about 2 hours if you plan to freeze it.

To can the mincemeat:

fill hot quart jars with the hot mincemeat leaving 1 -inch head space. Make sure the jar rim is clean. Place hot, sterilized lid on jar and tighten down with the outer ring. Process in a pressure caner according to your caner directions for 90 minutes at 10 lbs. pressure.

To freeze the mincemeat:

turn off heat under mincemeat pot. Place mincemeat in jars like you would to can it. Or, place in smaller containers for the refrigerator. Place the containers of mincemeat in the refrigerator overnight. If in quart jars with lids, remove from the refrigerator and place in the freezer. If in refrigerator containers, fill quart size, zipper freezer bags with the mincemeat then place it the freezer.

If you want to make a mincemeat pie from the the newly made mincemeat:

leave in the refrigerator container for at least a couple of days before using it.
You can make a mincemeat pie in an unbaked crust and freeze it for several weeks.
Notes
* You can use a variety of less expensive cuts of meat. Top round, bottom round, eye of round, etc. all are good for mincemeat. My favorite cut is to use is not a lean cut, chuck roast. I just cut off/out the fat and only grind the lean portions. I think the fat gives the meat more flavor as the meat cooks.
I use whatever pork cut is cheaper. I prefer a loin, including sirloin, because it is usually cheaper and has enough fat without having as much as the should cut.
You can use very lean ground beef, but the roasts are more traditional and the fat content is more difficult to control. Ground pork usually has just too much fat content.
https://www.asimplehomecook.com/grandmas-mincemeat/
2017
While it was usually served in pies, my mom also used to make mincemeat cookies with it.  Mincemeat is also common in tart form, but it can be used in muffins and cakes too.  Of course it can also be eaten my favorite way: in a bowl, warm from the stove, with a spoon.  Although, straight from a bowl was apparently NOT an acceptable way to eat it by my Mom's and Grandma's standards.