It would be nice to tell you that this meat sauce was one handed down in my family, but it would be a lie.  My dad was, um, limited as to what food he enjoyed eating.  He was not picky per se; he just did not like to try new things.  Italian food was probably at the top of the list of foods we ate that he did not enjoy.  In fact, the only lasagna I remember him saying he liked was made by a friend of ours.  While I never asked her for the recipe, I remembered that it contained sausage.
As a child, the only lasagna we made was from a Chef Boyardee box kit.  We added mozzarella ( a lot of mozzarella actually) and I loved it.  I ate other lasagna that friends and family made, but I hated cottage cheese in lasagna and everyone else's had cottage cheese in it.
As an adult, I used to just dump a jar of pasta sauce into a skillet of browned and drained ground beef for a lasagna sauce.  It was easy and tasted…okay.  I never used cottage cheese either, instead I did/do use ricotta cheese.
My husband  actually made better lasagna than I did when we started dating.  He made it on several occasions including making it for one of my mom's club meetings.  Since we've been married, he has never made lasagna again. 🙁
Tired of mediocre lasagna, I decided to start making sauce for lasagna from scratch. Remembering how much my dad liked it,  I decided to add both beef and sausage.  The rest of the recipe, I must admit, initially came about as a result of just winging it.  I added ingredients that I thought I would like and used my improved basic cooking knowledge.  It has turned out to be my favorite somewhat traditional meat sauce (the only pasta sauce I like better is non-traditional spaghetti sauce that takes an entire day to make ).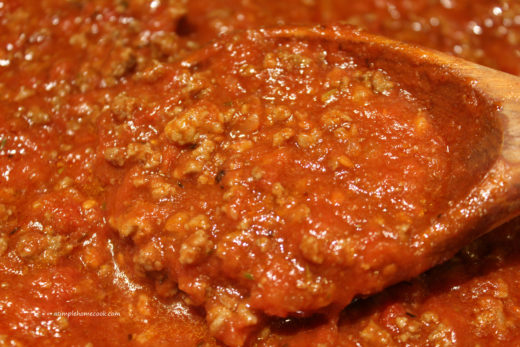 Let me know what you think.  Here is how I make mine:
Meat Sauce (for Lasagna, Etc.)
Ingredients
1 lb. ground beef
2 large Italian sausage links removed from casing or 2/3 to 1 lb. Italian sausage
2 Tbsp. olive oil
1 small onion or large shallot, minced
1 or 2 cloves garlic, grated
2 Tbsp. tomato paste**
2- 28 oz. cans whole, peeled Roma/San Marzano tomatoes
2 tsp. salt (to taste)
1 tsp. smoked paprika
1 tsp. turmeric, ground (OPTIONAL)*
2 or 3 Tbsp. brown sugar (to taste)
1 or 2 Tbsp. Italian herb blend OR basil, oregano, and parsley (to taste)
1 or 2 bay leaves
Instructions
Cook ground beef and sausage in a large, deep skillet until brown and cooked thoroughly.
Remove from pan and drain.
In the same skillet, heat olive oil.
Add onion and use a microplane/grater to add garlic.
Stir in tomato paste and cook for a minute or so while stirring.
Add the beef and sausage back to the skillet.
Stir thoroughly before adding the tomatoes.
Mash whole tomatoes with a potato masher, wooden spoon, etc.
Add salt, paprika, tumeric,* brown sugar, and herbs.
Place bay leaves in the sauce and allow to simmer over medium or medium-low heat.
Taste and adjust seasonings to taste.
Cook on low or medium-low at a simmer until flavors are well combined. (I spend at least an hour total to make the sauce).
Use in lasagna or serve over pasta, veggie noodles, etc.
Notes
Unlike a lot of people, I am not a big fan of garlic. So, you may want to add more for your taste.
*I add turmeric because of possible health benefits (and to a lesser degree flavor) to almost all of the tomato based sauces and many other dishes I make. This could just be left out if you prefer.
**I sometimes add more paste if I am running short on time. I think it makes the sauce have more depth of flavor like it has been cooking for longer.
The amount of seasoning should always be to your taste; the size of bay leaves, sweetness of canned tomatoes, etc. will affect how much seasoning you want as well. If you are not sure how much you would like, start with the smaller amount and add more after tasting.
Can be stored for a few days in the refrigerator before use.
https://www.asimplehomecook.com/meat-sauce-for-lasagna-etc/
2017