I buy sweet potatoes by bushel.  Seriously, I have recently purchased my second nearly bushel box of sweet potatoes.  I think apples and oatmeal are the only other foods that we purchase in as large or larger quantities on a regular basis. I will tell you about the oatmeal sometime…it requires a separate post. 🙂 Most of the time, I try and make healthy dishes like Grilled Baked Sweet Potatoes, Sweet Potato and Lentil Hash, or Maple Glazed Roasted Sweet Potatoes.  However, I love to splurge every once in a while and make sweet potatoes into a side dish that could easily be called a dessert.  Today I made one of those decadently delicious sides, Sweet Potato Casserole with Pecan Topping.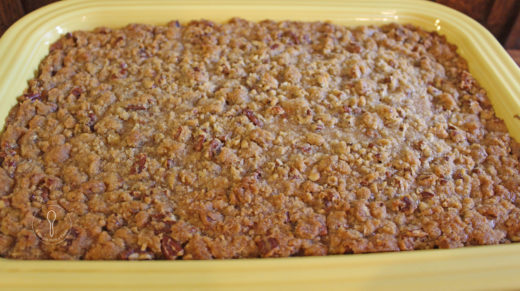 It is a classic sweet potato dish that my mom did not make.  I have had a similar version, which I helped make, at my sister's house last year.   I have also had versions of this dish at church potlucks. After running across a couple recipes for it in a compilation cookbook, I decided to give it a try on my own…with a few changes.  I love cinnamon and neither recipe called for cinnamon.  I also decided to experiment with a few of the listed ingredients. The result is a divinely decadent side dish that is very similar to other versions.
I am inclined to describe this dish as a sweet potato souffle with a praline topping.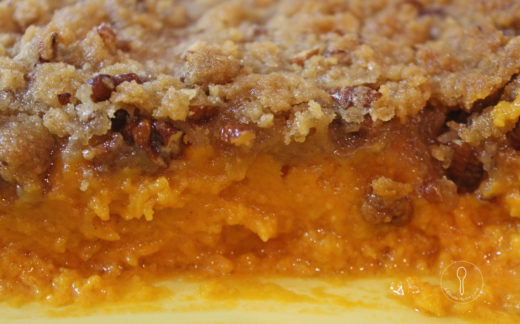 Sweet Potato Casserole With Pecan Topping
Ingredients
Sweet Potatoes

3 c. mashed sweet potatoes
1/2 c. unsalted butter
1/2 c. brown sugar
1/2 c. granulated white sugar OR honey OR a scant 1/2 c. maple syrup
1 - 2 tsp. cinnamon
1 tsp. salt
2 tsp. vanilla
1 c. cream, half and half, or evaporated milk (if using maple syrup or honey reduce to 3/4 c.)
Topping

1 c. brown sugar
4 - 6 Tbsp. butter, softened
1/2 to 2/3 c. all-purpose flour
1 c. roughly chopped pecans
Instructions
Preheat oven 350 degrees F.
Beat sweet potatoes and butter with an electric or stand mixer until rather smooth.
Stir in sugars, cinnamon, salt, and vanilla.
Slowly pour in cream or milk blending until everything is well incorporated.
In a small bowl: add brown sugar, flour, pecans, and 4 Tbps. butter. Blend together, adding more butter as desired/needed, to form a course crumb texture.
Place the sweet potato mixture in a 9 X 13-ish baking dish that has been buttered or sprayed with oil or non-stick cooking spray.
Spread the sweet potato mixture evenly over the baking dish.
Cover the top with the nutty brown sugar mixture.
Bake for 40 to 50 minutes until the outside edge is bubbly and browned. The center should be mostly set and just have the lightest jiggle; it will set up further after removing it from the oven.
Serve warm.
https://www.asimplehomecook.com/sweet-potato-casserole-with-pecan-topping/
2017