Yong He Zhi Jia is located along Atlanta's internationally diverse Buford Highway.   It serves a variety of Taiwanese and Chinese dishes including xiao long bao, soup dumplings.
I had been wanting to try xiao long bao for a long time. So, I risked it and took out of town friends to Yong He Zhi Jia without every eating there before. Thankfully, the reward more than equaled the risk and the soup buns/dumplings were as delicious and fun as I imagined.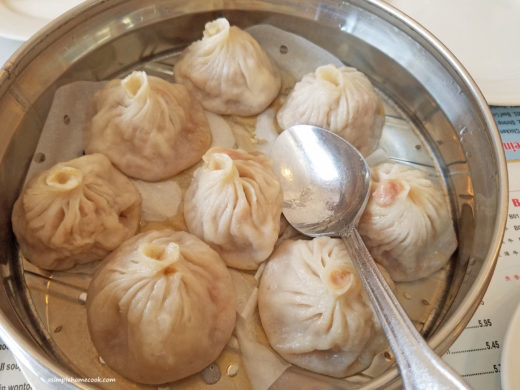 Xiao long bao actually is served two ways here:  "Crab Meat Juicy Buns" and  "Shang Hai Juicy Buns".  I have only eaten the Shang Hai Juicy Buns, but I can't imagine that the Crab Meat Buns are not delicious as well.  They are served in a metal steam basket. One order has eight buns/dumplings. They are rather delicate, but the skin is thicker than I originally thought. Inside, there is a meat center surrounded by hot broth.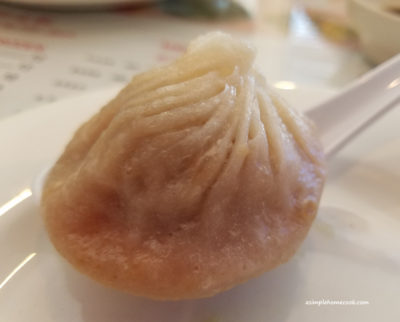 The hot filling will scald your mouth if your not careful. You can either bite off the top or poke a hole in the top of the dumpling with your chop sticks.  Once it is cooled a little , you can slurp out some of the broth before biting into the bun/dumpling.  Or, you can just bite in and let the broth run into the spoon, your mouth, and some of it onto your plate as well.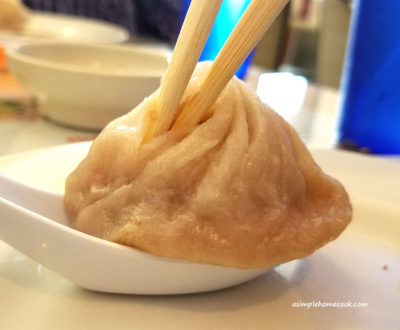 The Shang Hai Juicy Buns have a slightly sweet flavor and are wonderfully seasoned.  They are definitely are our favorite dish at  Yong He Zhi Jia, but they are not the only dish we adored.
Although we have tried  numerous dishes on trips to the restaurant, we have stuck to the more appetizer type items (dumplings, cakes, etc.) rather than dishes like lo meins, etc.
The largest single item we tried was the big pork bun my daughter ordered.  It was huge!
The fried vegetable and pork buns were much smaller.  Although, I have to say we enjoyed the flavors of the large pork bun more.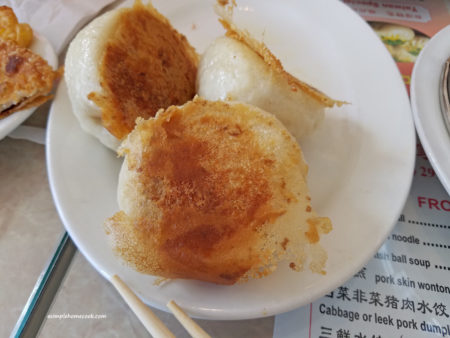 The leek pie was wonderfully light and delicious.  One pie served four people.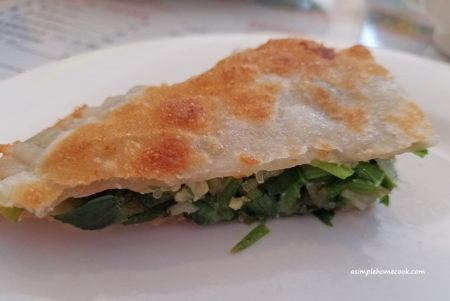 Our friends enjoyed the egg and green onion cake.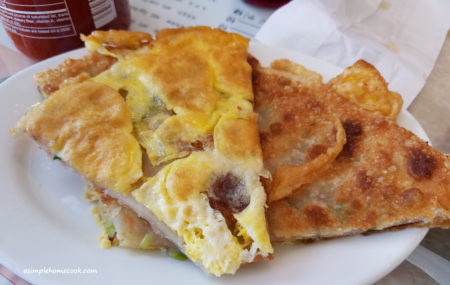 Possibly the biggest surprise for me was how much I liked the beef cake my husband ordered.  It was delicious.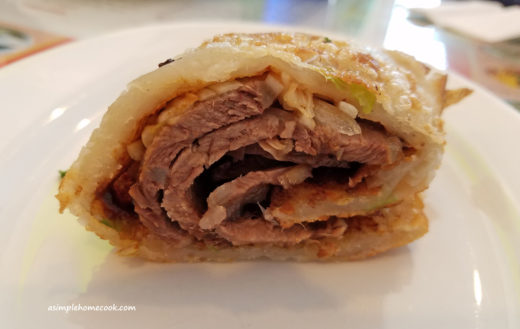 I decided to order what is typically a breakfast food, a Twisted Cruller, on a whim .  To me, they were basically an unsweetened, fried yeast doughnut.  While they are typically served with soy milk, I failed to order any.  Yes, this is just one order…I think it cost $1.75.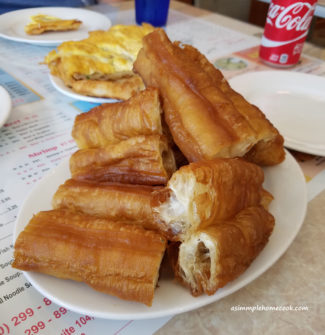 The restaurant is small with a small, friendly staff.  There were many "to go" orders when we ate during dinner time on a Saturday night, but the server was still very attentive.
Yong He Zhi Jia offers something that many most other restaurants do not, bags of frozen food to cook yourself.  They offer a variety of dumplings, buns, and other options (including fish balls and pork skin wontons for soup).  I have yet to try any of the frozen foods, but it is on my list of things to do when we go back. Before you ask..no they do not sell the soup dumplings frozen. 🙂
PS – If you are having trouble locating the restaurant in the shopping center, look for a sign next to Pho Bac that says Golden BBQ.  It may be that they still haven't replaced the previous occupants sign yet.