Apparently, Bundt Cakes are once again "in."  King Arthur Flour even named 2017 "Year of the Bundt."  I guess I really don't move in the proper circles, because I never knew Bundt cakes were ever out.  I have always loved Bundt cakes since my mom got her very first Bundt cake pan in the late(?) 1970's.  Reflecting back, I do remember more people making more Bundt cakes in the 1980's than in recent years.  Or, perhaps I just knew more people who baked in the 1980's.
My dad was a fan of a denser cake, which many Bundt cake recipes make.  I think my mom and I shared a love of the easy acceptable options for topping a Bundt cake: plain, frosting, powdered sugar, or a glaze.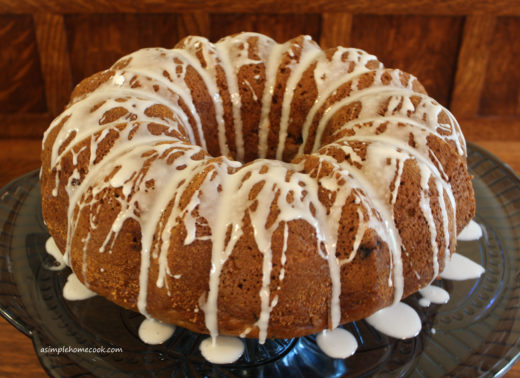 I like the messy affect achieved with just some powdered sugar, milk, and a fork to string it about over the cake.  However, if you prefer a neater topping it is also easy to achieve.
Of course, what I have always loved about a Bundt cake was the cake itself.  Great for dense, rich cakes, the Bundt pan can also hold hidden layers of fillings or even a "Tunnel of Fudge." This Zucchini Bundt Cake has hidden layers.  There are two delicious layers of brown sugar, raisins, spices, and nuts running through the cake.  Yum!
Akin to zucchini bread, Zucchini Bundt Cake is a tasty and moist cake.  Plus, it is easy make. 🙂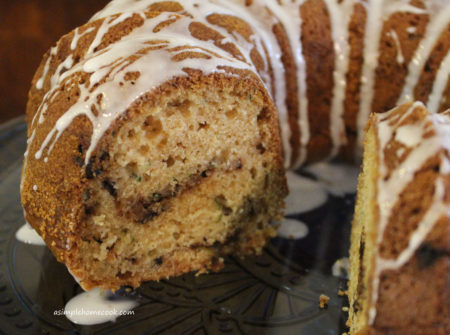 Ingredients
3 c. all-purpose flour
3/4 c. sugar
1 1/2 tsp. baking powder
1 tsp. baking soda
1/2 tsp. salt
3 eggs
1 1/3 c. sour cream
1/3 c. canola or similar oil
2 c. shredded zucchini
3 tsp. vanilla
FILLING
1 Tbsp. bread crumbs
1/3 c. brown sugar
1/3 c. chapped nuts
1/3 c. raisins
1 Tbsp. ground cinnamon
1/2 tsp. ground allspice
GLAZE
3/4 c. confectioner's sugar
2 to 3 tsp. milk
1 tsp. vanilla
Instructions
Preheat oven to 350 degrees. (If using a dark pan, you may want to lower the temp to 325).
Combine first five ingredients in a large mixing bowl.
In another bowl, beat eggs, sour cream, and oil until blended.
Stir in zucchini and vanilla to the egg mixture.
Add the wet zucchini mixture to the dry ingredients and stir until well combined.
Combine filling mixture in a small bowl: Brown Sugar, nuts, raisins, cinnamon, and allspice.
Spray the Bundt pan with nonstick cooking spray and coat with the bread crumbs.
Put 1/3 of the cake batter in the bottom of the Bundt pan.
Spread about 1/2 of the filling over the top of the batter. Try to keep the filling away from the edges of the pan.
Top the filling with another 1/3 of the batter.
Top that layer with the rest of the filling mixture.
Add the rest of the cake batter on top and smooth it with a spatula or spoon.
Tap cake pan against counter or similar surface to eliminate air pockets.
Bake for about an hour checking with a tester (toothpick, bamboo skewer, etc.) for no raw batter starting at 55 minutes.
Remove from oven to a wire rack and cool for 10 minutes before removing cake from pan to completely cool.
Combine sugar, vanilla, and milk in a small bowl.
Drizzle glaze over cooled cake with a fork or a spoon.
https://www.asimplehomecook.com/zucchini-bundt-cake/
2017